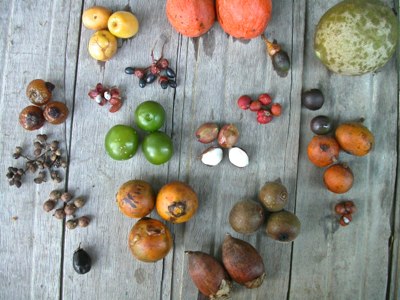 Our research focuses on the study of biological diversity (biodiversity) from both ecological and evolutionary perspectives. We are interested in how ecological interactions, e.g. mutualisms, shape complex ecological systems. Interactions, such as those among plants and their seed dispersers and pollinators, are the
wireframe
of biodiversity, yet we are far from understanding how they evolve and coevolve. Our main research tools to address this fascinating theme include field ecology, molecular genetics, and theoretical ecology.



Estación Biológica de Doñana, CSIC
Avda. Americo Vespucio 26
E-41092 Sevilla, Spain
Voice: +34 95 4466700
fax: +34 95 4621125
email: informacion@ebd.csic.es

Find it in Google Earth here.


How to get here...
Information about the public transport can be found here.
This is a map of the center of the city, indicating the location of our new labs in Isla de la Cartuja. The building is located close to the river, to the north limit of the Cartuja area. You can see the place in Google Earth here

.

How to get to Seville by plain



Sevilla is very well connected to the rest of the world. Sevilla Airport SVQ is connected by direct flight to AMSTERDAM/SCHIPHOL EINDHOVEN Netherlands BRUSSELS Belgium DUBLIN Ireland FRANKFURT /HAHN DUSSELDORF NIEDERRHEIN Germany MILAN /MALPENSA MILAN /ORIO AL SERIO FLORENCIA / GAL GALILEI VENECIA /MARCO POLO Italy LISBOA Portugal LIVERPOOL LONDRES /GATWICK LONDON /STANSTED United Kingdom OSLO Norway PARIS /ORLY France ROMA /FIUMICINO Italy TOULOUSE France. Many other international and of course national destinations are covered by several airlines. These flights are not always direct though.

Other close airports are:
Málaga Airport: About 220 km southeast from Sevilla
Jerez Airport: About 90 km south from Sevilla
Madrid Airport: About 530 km north from Seville



From the airport to EBD





By taxi


Stops are both in arrivals and departures. Journey duration: approximately 15 minutes. Price: For the provision of services between the airport (entry or departure) and any point within the ordinary rate boundaries in the city of Seville a fixed rate applies. This is about 17.61 euros (Monday to Friday from 6 to 22 hours), and 20.72 euros where from 22 to 6 hours on Saturday, Sunday, holidays, plus 24 and 31 December from 0 to 24 hours; and the April Fair and Holy Week, when a 25 per cent supplement is also payable.

Radiotaxi Giralda: 954 675 555
Radiotaxi: 954 580 000
Teletaxi: 954 622 222



By bus


Route EA (Especial Airport-Prado). Seville's Urban Transport Line links Prado de San Sebastián with the airport. You can look up the departure times for buses, either from the centre of Seville or the airport. Information about intermediate bus stops is also available on the website TUSSAM. Itinerary: Airport - Kansas City - Santa Justa Railway Station - Luis de Morales - San Francisco Javier - Carlos V - Prado San Sebastián Price: Single fare, €2.10. From el Prado, to reach our headquarters at the Isla Cartuja, you can take any of the C1 or C2 bus lines (check at TUSSAM webpage).



How to get to Sevilla by train:



Sevilla is connected to Madrid and Malaga by high speed railway AVE. From Madrid (Atocha Station) to Sevilla (Santa Justa Station) it can take between 2:30 and 2:45 hours depending on the train.